This programme is primarily run by Noemi. 


Personalised Nutrition Programme
A personalised nutrition programme involves building a detailed picture of your lifestyle, eating habits, medical history and any concerns you have about your health and wellbeing.  With this information, I can work with you to form an eating plan that suits your needs, your lifestyle and daily commitments.
I will work with you to identify the foods you should be eating and help you to enjoy an abundance of wonderful food that makes you feel good in both body and mind.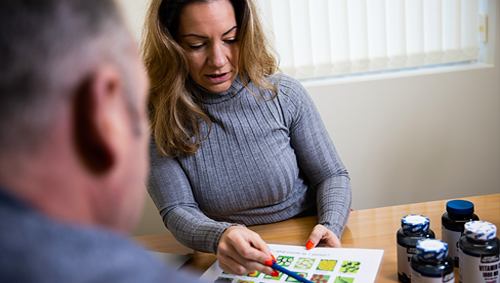 Where necessary you will also receive advice and recommendations on which food & sport supplements are best for you to top up the goodness of your food and provide you with complete nutrition.  In order to look at your health from a holistic perspective, I believe in looking at your overall health and wellbeing.  I do not just address your symptoms. I am looking for the underlying causes of your health problems and want you to feel well in every aspect of your life.
A personalised nutrition plan can be developed for your body composition and state of health. It can help with the following conditions:
weight loss/gain
chronic/acute disease
operated/injured body
muscle/joint/posture problem


Pricing and duration

First consultation: £20
Personalised nutrition & diet plan set up including one month follow-up: £135
Further follow-up:  £50 / month on demand
This programme includes:  I monitor your changes weekly, I adjust your plan anytime it is necessary according to your changes, feeling and body reactions.  You can reach me anytime with your questions.

Habit changing program
Many people have bad eating habits that result to low levels of energy, digestive problems, weight gain, hormonal imbalances and mood swings.  If there are already existing health issues such as high blood pressure, high blood glucose level, arthritis pain etc, these can be getting worse with unhealthy eating.
This program helps to make you feel better, feel energised, prevent future illnesses and reduces symptoms of current diseases.  It takes 21 days to create a new habit and this program is designed to support people who are unsure of what needs to be changed.


Pricing and duration
Habit changes online program: £60 / 4 weeks;    £100 / 8 weeks
This programme includes:  weekly food diary check, personalised feedback and suggestions for changes, explanation to understand your own body and the effects of the habit changes both long and short term.